We would like to invite you all who like Star Trek, from the original series genaration to the latest JJ Universe. Indonesia Star Trek Community proudly present the annual community event for this year titled STAR TREK DAY in 2013 : SPACE THE FINAL FRONTIER.
In welcoming the 47 years of Star Trek first aired in America 8
th
of September 1966, INDO STAR TREK as a forum for fans of Star Trek will be holding a special event, the Star Trek Day 2013 in Indonesia.
The special event will even be more fun because this year it'll be open for the public, either the loyal fans or a fellow movie lovers at:
★
Saturday, 23 November 2013
, 12:00 s / d 20:00 pm
★ Mall lt.3 @ america Pacific Place Jl Sudirman , Jakarta , Indonesia
★
FREE
entry
★ Without registration
★ Open to the public
★ Doorprize
★ Dresscode casual or Star Trek Universe
The Attractions:
★Star Trek Alien Cosplay Competition
● 30 participants
● Star Trek Collection Prizes and cash of total Two Million Rupiah
★Star Trek LIVE MUSIC performance
● Celeste Chamber Orchestra
● Electric Guitar Solo by Joel ( Band 7YL )
★ 3 Generation Discussion of Star Trek's feature films:
● The Original Series
● The Next Generation
● Universe JJ Abrams [ Star Trek (2009) and Star Trek : Into Darkness ]
★ Skype Video Conference Star Trek Fans from America, Poland, Singapore, Malaysia and Philippines.
★ Star Trek 47
th
Birthday Cake in exciting opening ceremony
★ Performance from Indo Star Trek Cosplay Team
★ Starship Bridge Simulation
★ Photobooth with aliens prop and your favorite Starfleet uniforms
★ Exhibition of Starship fleets collections made of papers ( Papercraft ) and also private collections by Indo Star Trek members.
And much more.
Visit Star Trek Day website and get other interesting information here :
Indo Star Trek | Star Trek Day : Space The Final Frontier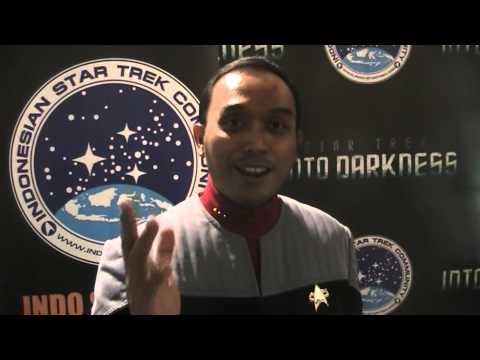 For more information :
★ Email "
[email protected]
"
★ Whatsapp SMS "+62 858-8375-9590"
★
Our Facebook
★
Our Twitter
STD Poster yellow A3-3 web pages.jpg
For those who works on Saturday, November 23th, 2013, let's plan a leave from now and be present at the show STAR TREK DAY in 2013 : SPACE THE FINAL FRONTIER!
See you there!
Live Long and Prosper !