You have to love the way this country works.
Sabtu, 11/10/2014 15:15 WIB
Antasari Azhar Temani Putrinya Menikah, Once Hingga Basrief Arief Hadir
Rengga Sancaya
- detikNews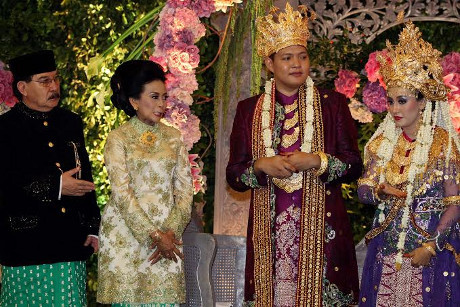 Antasari di resepsi pernikahan putri keduanya (Rengga/detikfoto)
Jakarta
- Eks ketua KPK yang terjerat kasus pembunuhan berencana, Antasari Azhar, menghadiri resepsi pernikahan putri keduanya Ajeng Oktarifka. Beberapa pejabat dan tokoh hadir dalam acara yang digelar megah tersebut.
Resepsi digelar di Balai Kartini, Jakarta, Sabtu (11/10/2014). Dekorasi bunga berbagai bentuk memenuhi auditorium pernikahan. Di pojok kiri berdiri panggung untuk musisi yang mengiringi jalannya resepsi. Salah satu penyanyi yang mengisi adalah eks pentolan Dewa 19, Once.
Beberapa tokoh hadir di resepsi tersebut, seperti Wiranto, Akbar Tandjung, Kejaksaan Agung Basrief Arief,
Juru Bicara KPK Johan Budi,
Yusril Ihza Mahendra, serta beberapa tokoh lainnya.
Banyaknya tokoh dan pejabat membuat antrean cukup panjang untuk menyalami mempelai Ajeng Oktarifka Antasari Putri dan Wirandi Tjiptono.
Pengacara Antasari, Boyamin Saiman, mengatakan Antasari hadir di resepsi pernikahan seizin pihak Lembaga Pemasyarakatan (Lapas).
"Terima kasih kepada Lapas dan Menkum HAM yang telah izinkan Antasari keluar Lapas," kata Boyamin.